Everything You Need to Know About Dolby Atmos Surround Sound
Enhance Your Movie Watching Experience with Three-Dimensional Sound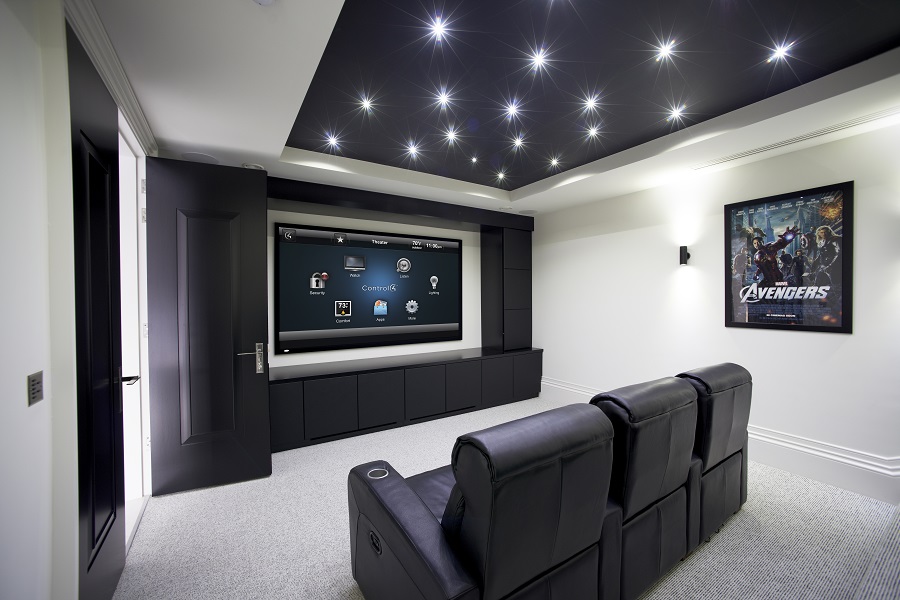 When it comes to home audio video, two solutions have always dominated the industry: stereo and surround sound. Now it's time to introduce a third option into the mix: Dolby Atmos. This revolutionary three-dimensional audio-mixing technology lets you enjoy the immersive theater experience in the privacy of your own house. While this technology was first introduced in 2014, it's just now hitting the mainstream as more products and content become available. In this blog, we'll explain what Dolby Atmos is and how to bring it into your Gilbert, AZ home.
How Does Dolby Atmos Differ From Typical Surround Sound?
Today most home theater systems include a surround sound setup. In these traditional setups, each speaker is associated with a particular channel. When movie studios did the sound mixing for a film, they had to decide which channel would handle each audio component to create a realistic experience. Dolby Atmos first emerged within the movie industry to simplify this process.
What Dolby Atmos does is get rid of the channel restrictions and create audio objects that can move around the room freely. This creates a bubble of sound that surrounds you from all sides. You can hear a plane flying overhead or someone talking right beside you. Sound mixers can create up to 128 audio channels for a truly three-dimensional experience.
What Do You Need to Bring it Into Your House?
The good thing is that bringing Dolby Atmos into your home isn't too difficult whether you're starting fresh or updating your existing surround sound. The technology uses much of the same foundation except for a couple of differences. First of all, you need to make sure you have a home audio video receiver that can process the Dolby Atmos metadata that tells sound objects where to go.
As we mentioned earlier, one of the biggest perks of Dolby Atmos is that you can hear overhead sounds. There are two ways to accomplish this. You can add in-ceiling speakers to your surround sound layout or use special up-firing speakers. These are regular floor standing speakers that send the signal upwards and bounce it off your ceiling to make it seem like it's coming from above.
Where Can I Find Content Mixed With Dolby Atmos?
Much like 4K Ultra HD, the reason Dolby Atmos didn't taken off until now is that content with this new sound mixing technology wasn't readily available. Now, most Blu-rays include Dolby Atmos. You can check out the company's website to keep up with the latest titles.
The bigger news is that Netflix and Vudu are finally getting in on the Dolby Atmos craze as well. The critically acclaimed movie Okja is mixed with the new technology as is Netflix's latest release: Death Note. Through our home audio video installations, we make it easy to access your streaming and Blu-ray systems from the same place so you can pull up the latest Dolby Atmos content quickly.
What is the Ideal Speaker Layout for Dolby Atmos?
Since sound is not relegated to specific channels, you can get more creative with Dolby Atmos layouts and expand beyond the traditional 5 or 7 speakers. That being said, most AV professionals stick to a standard surround sound foundation when installing Dolby Atmos systems.
We typically use 7.1.2 or 7.9.2 configurations during our installations. That means you start with 7 or 9 surround sound speakers in their traditional placements --in front, to the side, and behind the viewer--and add a pair of overhead speakers. The number in the middle corresponds to the subwoofer.
Another thing that has made the technology explode in 2017 has been the rise of Dolby Atmos-enabled soundbars. Movie watchers can now enjoy this immersive three-dimensional experience even if they have media rooms with tight space limitations.
Want to learn more about Dolby Atmos and how to bring it into your home? Reach out to one of our AV professionals by calling 480-888-5571 or filling out our online contact form.